In a Nutshell:
The Osaki OS-Pro First Class massage chair is a fantastic design offered by one of the top companies in the industry and one of a distinct minority to offer Swedish massage. It is recommended for anyone who's interested in a therapeutic chair offering Swedish massage.
* Brand Reliability is a measure of the strength and longevity of the brand, which by extension, is a measure of the level of support you can expect.
Are you sick and tired of feeling sick and tired? Are your constant aches and pains getting you down? Are you looking for a way to stop spending a fortune at the chiropractor's office and hoping you can find a way to get the benefits of a great massage from the comfort of your own home, any time you like it?
If you answered yes to any of the questions above, you're going to like our Osaki OS-Pro First Class massage chair review.
We'll be the first to admit that this model isn't for everyone. It's pricey, and it does have some shortcomings you should be aware of before spending any money.
In the sections that follow, we'll cover every aspect of the First Class design. We'll highlight its best features and not pull any punches where its weaknesses are concerned so you'll have a complete picture that will enable you to decide if this is the massage chair you've been looking for. If that sounds good to you, read on, and let's take a closer look!
An Overview of the Osaki First Class Massage Chair
Massage chairs usually aren't designed with aesthetics in mind. Most of the models on the market today don't even bother to try to hide what they are.
That's not to say that they're ugly, but they do have a distinctive appearance that won't blend in easily with most home décor schemes. Of course, if you suffer from chronic back pain, you probably don't care about aesthetics all that much, but it is something to keep in mind.
The other thing to point out is that the Osaki First Class is a hefty piece of furniture. Fully assembled, it measures 30" W x 46.5" H x 63" L (72" L when fully reclined) and weighs in at a hefty 311 pounds. In other words, it's going to fill up whatever room you set it in unless you live in a sprawling home with gigantic rooms.
As with the overall look of the chair, this isn't necessarily a deal-breaker, but it is something to keep in mind.
While we're still talking about the basics, it's also worth mentioning that this chair can only support 265 pounds of user weight. Most of the chairs (regardless of type) on the market today can support at least 300 pounds, which is enough to make the chair accessible to some 85% of the market.
This model doesn't quite rise to that level, and as such, it's just not a viable option for a significant segment of the market. We wanted to be sure to highlight that fact before we got into a discussion of the particulars because if you weigh more than 265 pounds, this one's going to be a non-starter.
In our view, this shortcoming doesn't get as much emphasis as it should on other Osaki OS-Pro First Class massage chair reviews we've seen online, so we wanted to be sure you were aware of it. Assuming the modest weight limit isn't an issue, there really is a lot to like here.
One final thing to mention before we leave the general overview section is this: If you decide you want one of these, you can order yours in your choice of the following color configurations:
Offered in a few different color configurations, you can select yours in:
We were a little underwhelmed by the upholstery on offer here. It's PU, which looks and feels like leather but isn't nearly as durable or long-lasting. Even with optimal care, you can expect it to start showing its age after eighteen months to two years.
On the other hand, we can't really knock this particular model for using PU since most of the massage chairs sold today do as well. It's just that given that these are expensive machines, we'd love to have seen something better and more durable—another minor complaint, but something worth pointing out.
L-Track & Quad Rollers
Peeking under the hood of the Osaki Pro First Class massage chair, we find that it has the basics well covered indeed. It comes sporting an L-Track that allows its quad rollers to move along the x-, y-, and z-axis (thus the 3D designation) when rendering its massage.
Of significance, since the track extends under the seat, it makes the chair capable of rendering a fantastic massage to your glutes and the backs of your thighs.
It gets better. In addition to a long track and quad rollers, this chair also features 24 airbags scattered throughout the chair, capable of rendering a top-notch airbag massage. The quad rollers can be adjusted through five different levels of intensity, while the airbags can be adjusted via three intensity levels.
3D Body Scan
This will be a relatively short section, but it's important because it's a very strong feature implementation and definitely one of this model's selling points.
When you first sit in the chair, it will take a detailed scan of your body. You'll hear motors whirring beneath you as the chair quietly adjusts the position of the rollers in a bid to give you an optimal massage.
The body scan is quite good, and in practice, it gets the positions of the rollers right about 95% of the time. On those rare occasions when the scan doesn't get the rollers in exactly the right spot, you'll find a manual adjustment feature on the touchpad, which serves as the remote. The combination of those two things makes it all but a certainty that you'll get an absolutely superb massage from this chair.
Space-Saving Design Paired With Zero-Gravity Seating
This is another very strong feature implementation. Although the First Class is a big, bulky piece of furniture, it doesn't take as much space to use effectively as you might think, thanks to the space-saving design, which allows the chair to be placed just 4" from the wall.
In addition to that, this model sports not one but two different Zero-G seating positions.
Inspired by NASA, Zero-G seating really does leave you with a feeling of weightlessness. It positions you such that your knees are elevated slightly above your heart and is incredibly relaxing. It's also been shown to improve circulation and facilitate healing, especially for those who have recently undergone any sort of surgical procedure.
Only a minority of the massage chairs on the market today offer Zero-G seating and about half of the ones that do only offer a single seating position. The fact that this chair offers two is absolutely superb.
A Generous Number of Massage Options
This is an extremely important component of our Osaki OS-Pro First Class review, and we were super impressed by the feature implementation here. Let's start with the massage techniques on offer. These include:
Of significance here is the fact that there are two advanced techniques. Most of the massage chairs sold today offer some variation of Shiatsu massage, but there are only a handful that offers Swedish. That's incredible and, in our view, one of the major selling points for this model.
Even better, this chair has an impressive 23 different pre-programmed massage routines built-in. These are divided into four different categories, as outlined below:
VIP Routines
Healthcare Routines
Special Routines
Relaxation Routines
In addition to offering a wide range of pre-programmed massages, the remote allows you to zero in on the places on your body that hurt the most in a variety of different ways.
You can:
The body stretching routines are quite good and offer genuine therapeutic value. They're not as good as the body stretching done by Kahuna chairs (which hold top honors in that category), but these are excellent stretch routines that will definitely help you feel better if you suffer from chronic back pain.
The good thing about having so many pre-programmed options available is that it makes this chair super easy to use. You sit down, let it scan your body, and push a button to select the kind of massage you want. That's it.
You don't have to tweak a bunch of different settings.
Even better is the fact that with so many different options available, you're almost certain to find several that you really like. Sure, it will take a bit of experimentation, but once you've zeroed in on the ones you like best, using this chair is about as simple as it gets.
The downside is that while the chair offers a ton of great pre-programmed options, there's no way to save a customized massage.
The remote does make it possible for you to design your own totally customized massage. However, it does involve making several choices that can't be saved and recalled later, which is a definite shortcoming.
Lumbar Heat
Heat is always a welcome addition to any chair and is another feature with genuine therapeutic value.
Here though, we're not as impressed with the implementation of the feature. The heat is restricted to the lumbar region of your back only.
For a chair in this price range, we would have expected either heated footwells or temperature control, or both.
Even without these things, though, it's a welcome addition to the design and a feature you'll almost certainly appreciate.
Calf & Foot Massage
We gave the calf and foot massage a brief mention when we listed out the pre-programmed massage routines, but we wanted to give readers a bit more detail on it because you can order just a calf and foot massage if that's all you want.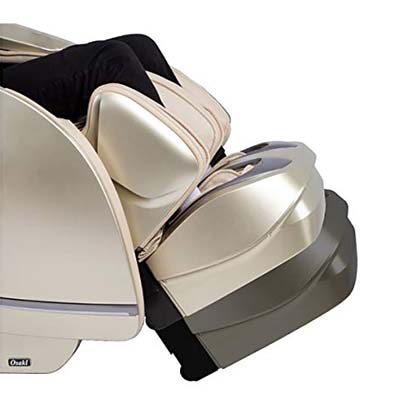 Utilizing a combination of three rollers per footwell and airbags, the massage you get from the First Class is just as you'd expect: First Class.
It feels amazing. If you spend a lot of time on your feet, this aspect of the chair's design will probably become your new best friend.
Airbag intensity and foot roller intensity can be adjusted via three intensity levels. It's not quite as robust as the roller-based massage for the rest of your body, but it feels absolutely glorious. The only thing that could make it better would be the addition of heated footwells.
Even without them, though, Osaki did a masterful job with this feature, and you'll be impressed.
Tons of Extras and Finishing Touches
Everything we've talked about thus far puts the Osaki First Class in the upper echelons of the massage chairs on the market today, but the First Class doesn't stop there. It also has a range of high-value extras and finishing touches that really take this model to the next level. These include things like:
Pros & Cons of Osaki First Class
If you've read our Osaki Pro First Class review to this point, we think you'll agree that this chair has a lot to offer. In no particular order, here are the things we think you'll like best:
PROS
While these aren't the best in class, they are very well implemented and provide real therapeutic value.
Having touted what we feel are its best features, there are a few limitations to be mindful of.
These include things like:
CONS
We'd love to have seen top grain leather here, even if it raised the price (And it surely would have!)
These are real, legitimate weak points in the design. The only one that will be a potential deal-breaker for some users is the modest weight limit. In our view, the pros far outweigh the cons.
Osaki OS-Pro First Class Massage Chair Review Conclusion
Assuming the weight limit isn't an issue for you, this chair belongs on your shortlist of options to consider. As mentioned in the previous section here in our Osaki OS-Pro First Class massage chair review, it's got a number of hard-hitting therapeutic features, combined with a ton of finishing touches that make this chair hard to say no to. If you decide you want one, we think you'll love it. It is highly recommended.
Other Options to Consider
If the Osaki OS-Pro First Class massage chair isn't a good fit for you, here are a couple of other options you may want to consider: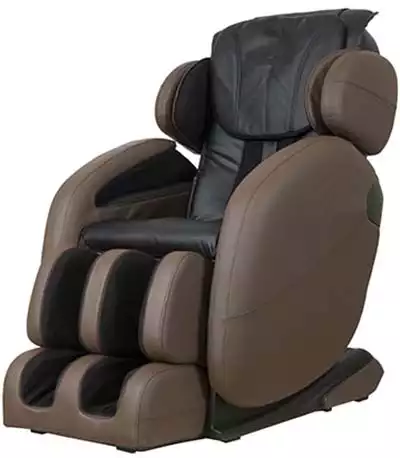 Don't let the low price of this chair fool you. It's one of the best values in the massage chair market today and is brimming with features. Kahuna also has the best body stretch in the industry, and this chair gives you access to it. Sure, it doesn't have as many features or finishing touches, and you lose the Swedish massage, but this one has the basics masterfully covered.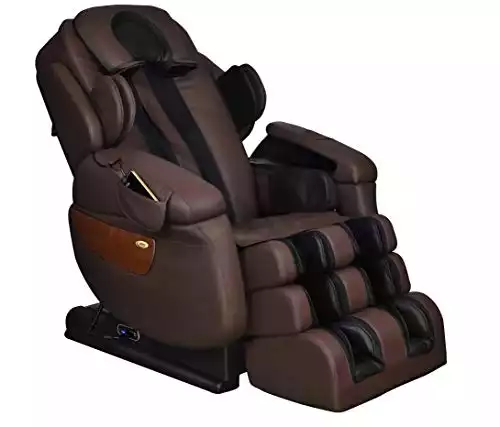 While this one is more expensive than the First Class, it's also one of the best therapeutic chairs sold today. If the First Class doesn't have the therapeutic punch you're looking for, this one is certainly worth a closer look.
---
References & Resources