In a Nutshell:
One of the best general purpose massage chairs in its price range today, the Apex Aurora massage chair offers a solid, basic massage experience and is easy to use. Even though you can find other chairs with more features than this one has to offer, the AP Aurora covers the basics splendidly and delivers great value from a price/performance perspective.
* Brand Reliability is a measure of the strength and longevity of the brand, which by extension, is a measure of the level of support you can expect.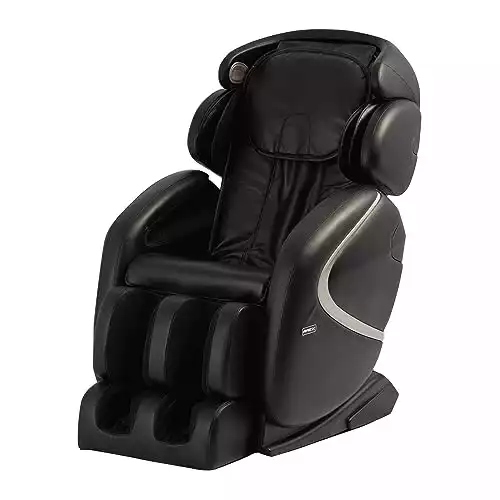 Wouldn't it be great if there was a feature-rich massage chair for those who didn't want to spend an arm and a leg?
A basic chair, sure, but one with enough features to give a really great massage without requiring you to take out a second mortgage to buy one.
If you've had that very thought, then the Apex Aurora massage chair is probably exactly what you're looking for.
In this Apex AP Aurora review, we'll go over all its features, detail what this chair is, and just as importantly, what it isn't. By the end, we think you'll agree that for the money, you'll be hard-pressed to find a better value in its price range.
Apex Aurora Massage Chair Overview
The Apex Aurora massage chair is a pleasant surprise at the low end of the massage chair market. If you're shopping for a massage chair but on a budget, most chairs you will find will have a limited feature set. In this particular case though, you'll be amazed at how many high-end features Apex was able to weave into the Aurora Massage Chair design while keeping costs reasonable.
Apex AP Aurora Massage Chair Models
Apex Aurora Chair Features
Hybrid L/S-Track Design
This is a bit of a surprise at the low end of the price scale. The Hybrid L/S Track represents the latest in massage chair technology, and is typically only seen in mid-range chairs and above.
With a hybrid L/S-track, roller movement is similar to the standard S-track, which follows the "sinusoidal" shape of the human spine while massaging the neck down to the lower back. However, instead of stopping at the lower back, an L/S-track allows the rollers to roll past the hips to the back part of the thighs.
As time passes, we expect the L/S track design to become the new industry standard, but for now, finding it is a rare treat indeed!
​Body Scan Technology
​​​​The computer body scan helps to deliver accurate massage experience to users and is typically more of a mid-range feature than a low end one.
When you sit on the chair, it will automatically perform a body scan and adjust the positioning of the rollers on the fly. Better contact with your pressure points equates to a higher quality massage.
Zero Gravity Function
The presence of this feature is a genuine surprise in a budget massage chair.
​​​​The zero-gravity feature works by positioning the user's knees above the heart, allowing the full body weight of the user to press onto the chair, which in turn increases the pressure applied by the rollers on the user's back.
This, combined with the body scan technology and L/S track, improves the overall quality of the massage offered by the Apex Aurora, effectively delivering an experience far above what you'd expect in a budget-priced chair. A really great combination of features that provide quite a lot of synergy!
Even better, the Apex Aurora zero gravity massage chair offers two different zero-gravity positions to give you options where that's concerned.
​Heat Therapy
This is a fairly easy and inexpensive feature to add, so it's not terribly surprising to find it here. Two heating pads, located in the lumbar area of the chair provide heat therapy combined with a soothing massage. A solid feature at any price point.
Leg Extensions
The footrest of the Apex Aurora massage chair has a spring-loaded leg extension which allows for even taller users to fit well into the chair (maximum height is 6'4"). To see the best massage chairs for the tall and big, click here.
This is a small feature, but a truly nice touch, and again, something you don't typically find at the low end of the market.
Air Bag Massage
The Apex Aurora massage chair does offer an air bag massage feature, which covers the user's shoulders, arms and hands, feet, and calves. Two things to draw your attention to here though.
The chair has only 22 airbags. This is a totally understandable concession made in an effort to keep the price of the chair low. And while it limits the quality of the massage, even with 22 airbags, it still delivers quite a good massage experience.
Of note, head massage is not offered by this chair. Also absent are airbags in the seat and thigh area.
Massage Settings & Options
Here's where we begin to see the limitations of a massage chair at this price point. There are only four automatic programs available:
Furthermore, the types of massage offered are limited to just the basics:
You don't get more advanced massage options like Shiatsu and Swedish. And there aren't many ways to step outside the bounds of the automatic programs offered and customize your massage experience. Then again, that's to be expected at the lower end of the market.
---
Pros and Cons of the Apex AP Aurora
So where does that leave us?
The bottom line is that the Apex AP Aurora is a solid massage chair that delivers a very good basic massage experience. Its biggest selling point is the fact that it manages to fit a surprising number of modern features and massage technologies in a chair for such a bargain price.
Anything negative we can say about this chair all stems from the company's commitment to keeping the price low, which is impossible to pull off without sacrificing on features. Some of the features missing from the Apex Aurora massage chair are easy to look past, while others present more of a challenge.
For example, the absence of a sound system is fairly easy to overlook. There are all sorts of readily available alternatives that users can opt to use such as a smartphone and some earbuds. Basically, this is just a loss worth mentioning for the sake of completeness, but isn't really a big deal for many.
The relative lack of customization options also bears mentioning here, but doesn't come as a great surprise. On high end chairs, you've got dozens if not scores of customization options with more automatic programs and a robust manual mode that allows you to customize virtually every aspect of your massage experience. Those options are, of course, lacking in chairs at the lower end of the price scale, like the Apex Aurora.
It's a massage chair that delivers a really good basic massage. So, if you're looking for tons of customization options, you'll have to move up the price scale in order to find them.
While the features mentioned above were all understandable, some features, like the absence of seat vibration, a full body airbag massage, and a head massage feature could still be deal breakers for some users. If you have a specific need for these kinds of features, then the Apex AP Aurora massage chair may not be the right one for you.
Apex AP Aurora Review ​Conclusion
Our Apex AP Aurora review wouldn't have been fair or complete without highlighting the chair's shortcomings, and it does have a few.
Nonetheless, if what you're looking for is a decent chair that offers a great massage experience, and you can live without some of the extras that high-end chairs typically feature, it's hard to find serious fault with the Apex Aurora massage chair. It is perfectly serviceable and delivers a great massage at an even better price.
---
References & Resources