Let's begin this roundup by zooming out and taking a broader view of our top three picks for the best lounge chair for posture correction in 2023 to give you a feel of the options that are currently available.
Best Lounge Chair for Posture Correction Comparison Table
Pros:

A masterful, modern design, exquisitely comfortable. Will blend in with most any home décor scheme.

Pros:

Beautiful, understated design that should work well with most home décor schemes.

Pros:

2-position recline function. Rocking function. Can be ordered in either manual or power recline configuration.

Cons:

Not an especially attractive design. Pricey.
Our Pick
Pros:
A masterful, modern design, exquisitely comfortable. Will blend in with most any home décor scheme.
Pros:
Beautiful, understated design that should work well with most home décor schemes.
Pros:
2-position recline function. Rocking function. Can be ordered in either manual or power recline configuration.
Cons:
Not an especially attractive design. Pricey.
09/26/2023 06:40 pm GMT
Do you suffer from chronic back pain?
If you do, there are some things you can do to help ease that pain, ranging from regular chiropractic visits to buying a fancy massage chair to use at home, to developing better posture habits.
All of those are good things, but have you considered the impact your living room furniture might be having?
The sad truth is that much of the living room furniture being sold today isn't very conducive to good posture.
Unfortunately, most Americans lead fairly sedentary lives, and after a hard day's work, a big percentage of us spend several hours every evening slouched on the sofa or in our favorite easy chair, which doesn't do our aching backs any favors.
Take your average sofa, for example. Most sofas sit far too low, which means that when you're sitting on them, your hips are much lower, relative to your knees than they should be. This promotes terrible posture, and if you're already suffering from an aching back, that's only going to make your problems worse over time.
Fortunately, furniture manufacturers are beginning to design ergonomic living room furniture that can help ease pain by promoting better posture. True, that kind of furniture is still only a small segment of the market, but the ones that currently exist are stylish, comfortable, and good for your back – what's not to like about that?
Often (but not always), you'll pay a premium for ergonomic designs, but if you are currently suffering from back pain and are looking for some relief, then you've probably reached the conclusion that it's worth paying a little extra.
If that describes you, then you're going to love this roundup review. We've scoured the internet on a quest to find the best lounge chair for posture being sold in 2023. Even though ergonomically designed living room furniture is a recent trend, we were pleasantly surprised at the number of lounge chairs currently being sold that met our criteria.
As you can see from the table, we've found and selected an overall winner, and we'll tell you all about it in just a moment. Before we do that though, let's talk about our selection criteria.
Selection Criteria
So, what does "ergonomically designed" mean anyway, and how did we select our finalists? Both are fair questions, and we want to outline our selection process for you so you'll have a better understanding of exactly what we were looking for.
Let's start with the basics. In a nutshell, ergonomic design simply means that a given piece of furniture was designed in such a way that it's more comfortable and easier to use. As applied to living room furniture, the focus is on solving for specific problems, including:
By taking a systematic, scientific approach to these problems, manufacturers can design furniture that is both more comfortable and better for you in that it promotes better posture, which by extension reduces back pain.
It should be noted that ergonomically designed furniture as a concept is nothing new. It's been fairly common (and widely used) in the workplace for decades, but there's the rub. It doesn't matter if your office chair is ergonomically designed if, after work, you go home and sit for several hours on a sofa or in a lounge chair that's terrible for your posture and your back. Any benefit your trusty office chair may have provided is undone by the hours of sitting you engage in at home.
Given the shocking number of people who currently suffer from chronic back pain then, it's no wonder that ergonomic living room furniture is becoming increasingly popular. It's a perfect pairing with the ergonomically designed office furniture we've been using for years, and the combination of the two can have a real, lasting, positive impact that includes, but is not limited to:
Improved Posture
Most people slouch when they sit in a chair. The simple truth is that it's harder to slouch in an ergonomically designed chair. Sure, if you're a champion sloucher, and if you really put your mind to it, you can do it, but odds are that sitting in a properly designed chair, you won't, or at least you won't slouch as much. Either way, that's going to help improve your posture, which will help that ache in your back, and that's a good thing.
To get more specific, when you slouch, the posture you adopt puts undue strain on certain parts of your body, which is why, after several hours of sitting in a poor posture position, you wind up with a crick in your neck, a pain between your shoulders, and back pain.
Sitting in an ergonomically designed chair will naturally distribute that strain across more of your body, essentially evening things out and avoiding the pain of extended sitting, which, over time, will help to ease your back pain. It's not a magic bullet, and you won't see improvement overnight, but you will see it.
Better Overall Health
Did you know that good posture improves your breathing? It's true! When you slouch, you compress the airways in your lungs, and when you do that, your brain (along with the rest of your body) struggles to get the oxygen it needs to function properly.
An ergonomically designed chair will not only help you think more clearly (by getting more oxygen to your brain), but it'll also improve your overall health because all the other organs in your body will get more oxygen too. This will help ensure that your body is getting a better, more consistent supply of all the nutrients it needs to function properly, and that equals better overall health!
Better Quality Sleep
Sitting for hours on end in a poor posture position will leave you achy and sore, which will make it harder for you to get a good, restful night's sleep.
If you can avoid those aches and pains, then when it's time to go to bed, you'll fall asleep more easily, and you won't be tossing and turning all night trying to get comfortable and avoid the pain, which will lead to getting a better night's sleep. That, in turn, will make you feel more refreshed, and you'll be more productive the next day. Who knew that ergonomically designed furniture could do all that?!
All of the chairs we'll be talking about here scored high marks in ergonomic design, and even if you don't agree with our top pick for the overall best lounge chair for posture, any of the chairs you see mentioned here will help you in all the ways described above. That said, let's take a closer look at our winner and the other worthies on this list!
Our Pick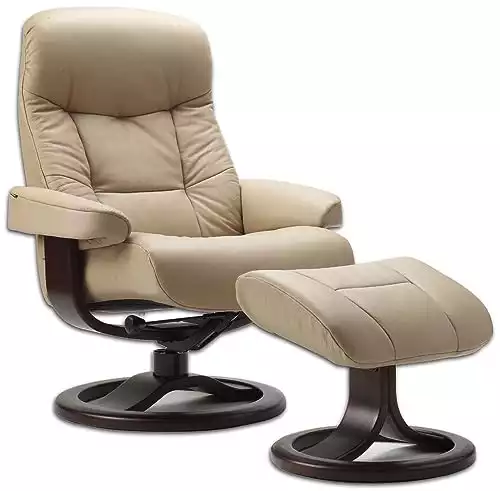 Featuring graceful, modern European styling and an understated elegance that should allow it to blend seamlessly into most homes, regardless of your décor scheme, you'll find this chair to be almost too comfortable to get out of. In fact, if you only order one, your biggest problem might be the fights that erupt inside your home as people squabble over who gets to sit in it next!
Even better, it's offered in a staggering array of color choices, so you can order something that's a perfect fit with your home's color scheme. In terms of the upholstery, you can choose from:
The wood base can be ordered in:
The combination of the two give you a tremendous amount of flexibility. Even better, you can order the chair in either "small" or "large" configurations as you prefer (the larger model having a slightly wider and deeper seat).
One of the secrets of the Muldal's comfort lies in the fact that the padding is cold cure foam, which retains its shape and comfort for much longer than traditional block foam padding. It also features an innovative recline feature (something it shares with our second-place winner), where the angle of recline is determined by the body weight of the person sitting in the chair, guaranteeing you an optimally relaxing sitting experience.
This model measures 42" x 34" x 32" and weighs in at a modest 75 pounds. If you can afford it, this is definitely the model you want. If you're on a bit of a budget, but want a similar sitting experience, then get the ScanSit Norwegian, which we'll talk about next!
Runner-Up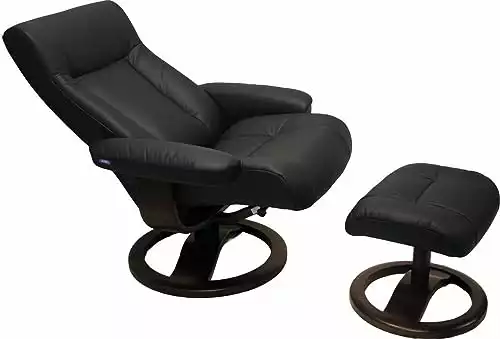 An exceptional chair by any reckoning, and one of the best lounge chair for correcting posture on the market today. Like our top pick, 110 Havana Leather Recliner model features a cold cure molded foam padding that holds its shape longer, and is more comfortable than traditional block foam padding does, and its understated styling will blend seamlessly with most any home décor scheme.
While not quite as comfortable as our top pick, it still offers a glorious sitting experience, and has a unique gliding mount system that provides a highly individualized reclining experience that's controlled by the body weight of the person sitting in the chair. That, combined with the excellent lumbar and upper back support make this chair one you could easily spend all day in.
While most of the chairs we'll be talking about in this article require at least some assembly, this one and our top pick arrive at your door fully assembled and ready to enjoy, giving you one less thing to worry about.
The chair's dimensions are 41" x 32" x 32" and weighs just 75 pounds. Offered in a variety of color options, including:
Additionally, this model can be ordered in either "small" or "large" configurations, with the larger chair having a wider and deeper seat.
ScanSit's offering only narrowly lost to our top pick, but costs significantly less, and is easily the best value for the money in our roundup review. It's simply an exceptional design with no weaknesses or flaws to speak of. You'll love it.
Value Pick
This is what most Americans think of when they hear the word "recliner." Offered by La-Z-Boy, it's also the one chair on our list that's sold by a brand almost everyone will recognize.
In the United States, La-Z-Boy is one of the most well-known furniture brands. The quality is excellent, and the Greyson Leather Rocker has a lot to offer.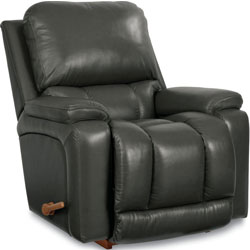 In addition to the ergonomic design that all of our finalists boast, the Greyson can be ordered with either a manual, lever-driven recliner, or a motorized recline function that operates at the push of a button. Both are excellent, and if you opt for the motorized version, you'll find the recline action to be smooth and quiet.
In addition to that, the chair also rocks, which many people find appealing. It might not be important enough that the rocking feature alone would compel you to pick this model over others, but it is a nice touch, and the Greyson is the plushest and most well-padded of all the chairs listed here.
On the other hand, the design is…well, it's not an ugly chair, but it certainly won't win many points for style or elegance. It's comfortable and functional. If those things matter more to you than appearance, this is a solid choice. If you're looking for comfort that makes a statement, you'll probably want to give the Greyson a pass.
It measures 43" x 38.5" x 41" and weighs in at 95 pounds, making it the heaviest chair on our list, and is offered in two colors: charcoal or java.
Also Great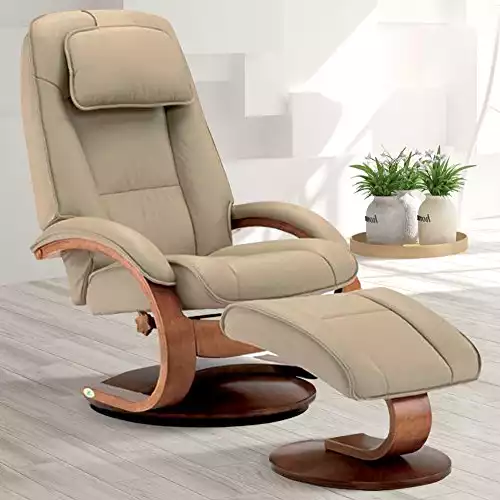 The Oslo Collection Recliner, offered by MacMotion is another great option featuring modern European styling and comfort. It would have ranked higher on our list of finalists, but its particular aesthetic may not work in as many homes as some of the other models.
In terms of comfort, however, it can keep pace with the best chairs on our list, offering exceptional lumbar support and very good support for your upper back.
One thing to note here is the fact that although the chair does recline when you're sitting in it in its upright position, it's still angled back slightly, which may cause you to need an extra pillow behind your head if you want to look at something "straight on." So for instance, unless your TV is mounted high on a wall, you may need an extra pillow to watch TV comfortably.
It's great for napping, reading, or chatting with friends and family though, and it swivels on its base, allowing you to twist and turn as needed to reach items on nearby tables or as the conversation shifts from one person to another.
The Oslo is offered in two colors (Merlot and Cobblestone), measures 31" x 30" x 43", and weighs in at a hefty 92 pounds.
Although the product description says that the chair is made of top grain leather, the reality is that this only applies to the primary surfaces of the chair, but the outer edges appear to be covered with a very high-quality leatherette that's virtually indistinguishable. This is something of a disappointment but was no doubt a cost-saving move by the company.
If you're wanting to buy American, then the Milano Recliner is a pleasant, attractively priced surprise. It's a beautifully designed, plush, and comfortable chair that's an absolute joy to sit in. Great upper and lower back support, smooth recline function and a comfortable Ottoman. This chair is so comfortable that you may wind up falling asleep in it, even if you hadn't originally intended to.
The only real drawbacks, as far as we can see, are these:
What makes the second point all the more surprising is the fact that it's offered at such a low price! The chair measures 32.3" x 29.5" x 42.5", weighs in at a modest sixty pounds, swivels on its chrome and mahogany base, and is offered in three colors: black, brown, or latte.
Other Alternatives
Didn't like our top picks? We have a few more to talk about. While these didn't rank quite as highly, in our view as the models we've just mentioned, we understand that not everyone will agree with our selection criteria. In order to be as thorough and as complete as possible then, here are three others that didn't quite make the cut, but may still be of interest to some.
Human Touch makes exceptional products, including a full line of outstanding massage chairs. Although this one doesn't have a massage function, it bears the Human Touch stamp. A graceful, innovative design that is a delight to look at.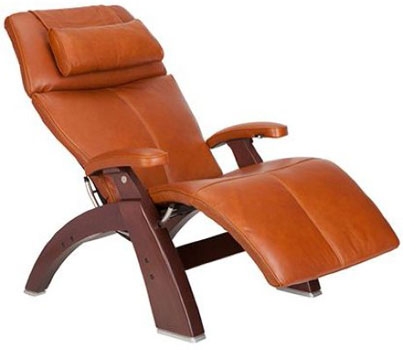 The main reason this one didn't make our list of finalists is its price. It costs twice what our top pick costs, and although it is a thing of beauty and highly automated, those two things weren't enough for us to justify giving it a place in the chart above.
If you can afford it, it's a masterpiece of engineering. Exceptionally comfortable and equipped with a powerful, responsive, whisper-quiet motor that controls the recline function at the touch of a button.
There are several things that make the PC 500 Silhouette very different from any of the other chairs mentioned in this article, including:
If all that wasn't enough, the Silhouette also offers Zero-G seating, like many of the company's massage chairs. If you're not sure what that is, Zero-G seating really does leave you with a feeling of weightlessness as it elevates your knees slightly above your heart and is the ultimate in relaxation.
Again, while not a massage chair in any way, the Zero-G function will leave you relaxed and refreshed. According to David Marcarian, the President of Precision Biometrics and a NASA-Trained Ergonomics Expert and a member of the Human Touch Wellness Council Authority put it, Zero-G offers the following benefits:
He goes on to say: "By placing the body in a neutral posture, the pressure is evenly distributed from the heels all the way to the back of the head. This removes all stressors, by essentially never having only one or two major points where most of the force is focused, thus reducing stress. This allows people to perform activities normally done seated not only for much longer but in the most comfortable and healthy position possible."
While you may not need all that from your recliner, if you do, then this is without question the chair you want, and you can get it in a variety of colors, including:
The Silhouette measures 47" x 29" x 41" and weighs 155 pounds.
Budget Options
The next two we'll mention are both budget options, so if our honorable mention is still more money than you'd care to spend or lacks the styling you prefer, the two models that follow may be what you're looking for.
If you don't like the aesthetic of the Milano (our honorable mention), then you may find the Mecor Lounge Chair to be of interest, as the two are virtually identical where price is concerned.
Like the Milano, the Mecor is ergonomically designed and quite comfortable, although it offers a more classic design than the Milano's modern European look.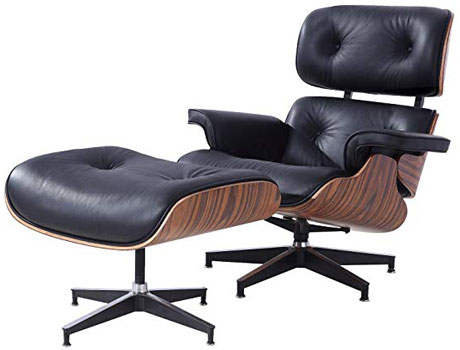 Crafted from die-cast aluminum and covered with wood veneer and Italian leather, the chair has a certain elegant simplicity to it. While it won't be a good fit with every home décor, it is quite stylish and attractive, and reasonably priced, to boot.
It swivels on its base, has an overstuffed seat and seat back, and the Ottoman is quite comfortable. The chair itself measures 34.25" x 34.25" x 32.28" and the Ottoman measures 25.59" x 21.26" x 17.32" offered in either brown or black.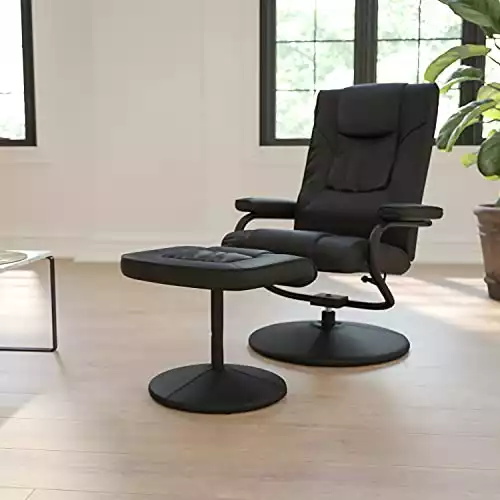 Flash Furniture's offering is hands-down the least expensive lounge chair for fixing posture we've found to date. We've seen office desk chairs that cost more money.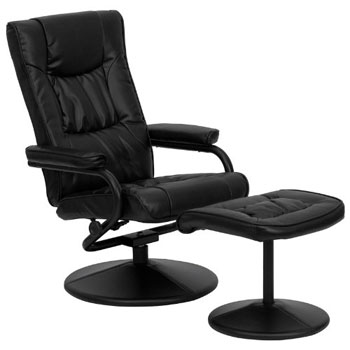 Fully assembled it measures 37.5" x 39" x 27.25" and weighs just 44 pounds, so it's light enough to move around easily if and as needed.
Granted, it's very basic. It's not particularly stylish or attractive, and it has a rather Spartan, minimalist appearance, but given its incredibly low price, we weren't expecting a work of art. Actually, we were shocked to find an ergonomically designed chair offered for so little, which makes it a pleasant surprise.
The best way to think of the BT-7862 is that it occupies a strange middle ground, somewhere between an office chair and an actual recliner. Like most office chairs, some assembly is required, although the process of doing so is fairly painless. The only tools you'll need are an Allen wrench (provided) and a socket wrench (not provided). Expect to spend about half an hour on the project, from start to finish.
Also, like an office chair, it swivels on its base. If you found someplace to store the included Ottoman, you could certainly stick it behind a desk and use it quite effectively as an office chair.
On the other hand, it really is a fully functional recliner, complete with an overstuffed seat and seat back, a comfortable Ottoman, and a simple knob to control the recline function. Still, unless your living room is rather austere, this model probably won't blend in well with your existing décor. For the price though, it's actually a pretty solid little chair that won't leave you disappointed, and by all accounts, Flash Furniture's customer support is excellent, which is another pleasant surprise.
Oh, and did we mention it comes in a variety of colors? You can choose from:
A great little chair offered at an almost shockingly low price.
Best Lounge Chair for Posture Review 2023 Conclusion
So, did you agree with our top pick for the best lounge chair for posture on the market today? It's fine if you didn't, that's why we included all the rest, so you'd have a better sense for what's available on the market today. Ultimately, the "best" lounge chair for posture for you comes down to what styling you prefer and how much money you're willing to spend on it.
We've tried to provide a good cross section in this roundup review, with chairs offered at a variety of price points to fit most any budget. If you're looking for a great, ergonomically designed chair, there's something on this page for everyone.
At the end of the day, good posture requires good posture habits, and while ergonomically designed living room furniture by itself won't be enough to change those habits, every little bit helps. You'll definitely feel better sitting in these chairs than you would in poorly designed conventional living room furniture.
---
References & Resources